Image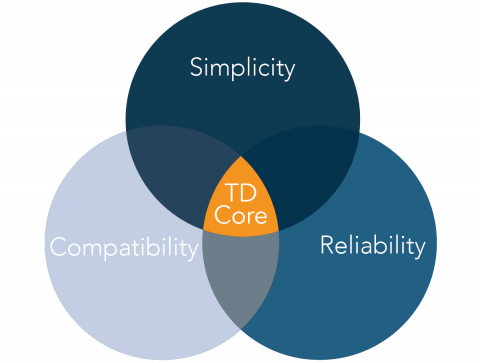 For analysts that need thermal desorption with accurate results and no downtime, the GERSTEL TD Core System is the optimal solution. TD Core is ideal for the determination of targeted compounds in air following standard methods while providing the lowest cost-per-sample across the entire workflow. All operations are controlled through MAESTRO software integrated into Agilent GC-MS software or aligned with the software of any other GC-MS manufacturer. TD Core is a dedicated thermal desorption system, based on  the MPS and TD 3.5+ with the capacity to process up to 120 samples in one automated sequence. The TD Core System is backed by GERSTEL's comprehensive support to help you get the full scope of technical customer-oriented service for optimal operation in your laboratory.
Optimized for air analysis performance
TD Core is optimized to perform International standard methods for ambient air analysis such as TO-17, ASTM D6196, and ISO 16000-6, for which an inter-laboratory round robin test was successfully passed. The system is fully method compliant for these methods and more. Analysis of air from environmental chambers commonly used to determine material emissions and their impact on indoor air quality or vehicle indoor air quality. Direct thermal extraction of solids in the TD tube, for example for screening purposes, is easily performed.
Benefits: 
The full temperature control enables analytes to be heated gently and prevents unwanted reactions with atmospheric oxygen. The analytes are specifically separated from the sample matrix. The compact design in accordance with the "liner-in-liner" principle prevents the loss or carryover of analytes and reduces the amount of maintenance required. The system can be expanded further at any time. Using thermal extraction, you can analyze substances that cannot be injected into the GC/MS system directly using a syringe. Thanks to the MAESTRO software, controlling the system as a whole is simple and intuitive.
Only TD system that is both valve- and cryogen-free
Easy method development for both targeted and non-targeted analysis
Only system that permits direct-to-trap liquid injection for method validation and troubleshooting
Capacity for 120 tubes: More samples than any other TD system
Smallest footprint of any TD system: All mounted on top of GC
Integrates into Agilent software for efficient setup, sample tracking and data archiving
Advanced tube heating design eliminates background and carryover
PTFE-free sample flow path – no degradation products or loss of PFAS and related compounds
Downloads